by Kenneth Oppel
Conditional Recommendation: Matt, Kate, Captain Walken and a new crew embark on the first expedition to space and on the way discover new celestial life forms and face dangerous odds of making it back to earth.
Age: Young Adult
Series: Matt Cruse, Book Three
Pages: 390
Published: 2009
Genre: Adventure
Award: CLA Book of the Year for Children Award (2009)
This is my favorite book in the series! For the last installment in Matt Cruse's adventures, Kenneth Oppel takes us to even higher altitudes and this adventure is what another reviewer called "good clean fun" and I couldn't agree more.
Books I Recommend in the Series
Summary from the Publisher
Pilot-in-training Matt Cruse and Kate de Vries, expert on high-altitude life-forms, are invited aboard the Starclimber, a vessel that literally climbs its way into the cosmos. Before they even set foot aboard the ship, catastrophe strikes: Kate announces she is engaged—and not to Matt.
Despite this bombshell, Matt and Kate embark on their journey into space, but soon the ship is surrounded by strange and unsettling life-forms, and the crew is forced to combat devastating mechanical failure. For Matt, Kate, and the entire crew of the Starclimber, what began as an exciting race to the stars has now turned into a battle to save their lives.
Well-Conceived Plot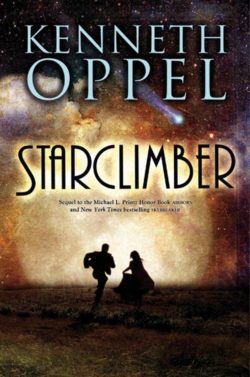 I just love a plot that forces characters to overcome tests, obstacles and odds. The adventure in this book is my favorite because we get both old and new characters along for the ride—and it's quite a ride! The concept of the starclimber ship is really cool and the peril of space makes for some exciting, suspenseful scenes. Oppel is masterful with the escalading drama of the story and the suspenseful rush to the conclusion. The third and final book of Matt and Kate's adventures sees the stakes even higher and the adventure is just as satisfying—if not more—than the previous two books.
Memorable Characters
The characters of this series bring the stories to life. Old characters like Mr. Lunardi, Captain Walkenn, and Chef Vlad return to add reliable flavor while new characters—a pompous zoologist, a keen-eyed photographer and her devious pet monkey Haiku, a confident test pilot, a dorky but brilliant scientist and an underwater welder—are the spices that give the story zing. All of the characters are distinct and together make hilarious and interesting scenes that are a joy to read.
Recommendation Note
There's peril (dangerous space expedition!) and romantic drama between Matt and Kate. Romance is a stronger thread throughout this book than the previous ones because Matt loves Kate and wants her to marry him but Kate is a loose cannon as always, leading him on a bit, and not easy to pin down. After two books with her, you don't expect anything to be simple or easy when it comes to Kate! In her defense, societal norms don't give her ambitious nature much of a choice but to boldly break the mold.
A Satisfying Ending
The ending is just right for the book itself and the series as a whole—completely satisfying and left me smiling. Matt Cruse's adventures are so enjoyable and fun. Don't miss any book in this series!
Where to Find this Book:
Amazon
* or your local library!
*This post may contain affiliate link(s). See full disclosure on legal page.