by Kenneth Oppel
Conditional Recommendation: Matt Cruse's adventures continue as he, Kate and a gypsy race to recover the ghost ship Hyperion and its treasures before falling prey to deadly high-altitude life forms and other sailors who seek its riches.
Age: Young Adult
Series: Matt Cruse, Book Two
Pages: 464
Published: 2005
Genre: Adventure
Awards: Ruth and Sylvia Schwartz Children's Book Award for Adult Middle Reader (2006), OLA Forest of Reading Red Maple Award for Fiction (2006)
In this second installment in the Matt Cruse series the reader is taken to greater heights and even more adventure than the first book. If your reader enjoyed Airborn then Skybreaker will be a very enjoyable read.
I do recommend reading the first book, Airborn, before this one.
Summary from Publisher
Former cabin boy Matt Cruse, now a student at the prestigious Airship Academy, is first to identify the Hyperion, the private airship of a reclusive and fabulously wealthy inventor that disappeared forty years ago with its owner. Armed with the Hyperion's coordinates, which only he possesses, Matt, heiress Kate de Vries, and a mysterious young gypsy board the Sagarmatha, an airship fitted with the new skybreaker engines that will allow them to reach the Hyperion 20,000 feet above the earth's surface. Pursued by others who want the Hyperion and will stop at nothing to get it, and surrounded by dangerous high-altitude life forms, Matt and his companions are soon fighting not only for the Hyperion but for their very lives.
Engaging Plot
This book is loaded with classic adventure: traps, chases, races, close-calls, sneaking, spying, death-defying stunts, treasure hunting and new dangerous creatures—this book is an adventure lover's dream. It's like Indiana Jones! The story has great plot twists that heighten suspense and the character's peril. It's a fun ride and very satisfying adventure story.
Memorable Characters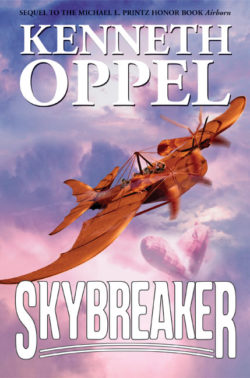 The combination of characters in this book adds up to a lot of interpersonal conflicts. The relationships take on a greater role in the story compared to the first book so be prepared for more he-likes-her, she-likes-him conflicts. Personally, I found the adventure and excellent plot to be no lesser for it.
Matt Cruse once again proves himself a character with a good heart. He cares about others, has a sense of justice, and is very dedicated to his friends. In this book Matt struggles with being poor, especially when he rubs elbows with wealthy characters like Kate de Vries and Hal Slater. This causes him to struggle with his sense of worth and with jealousy when he meets Slater who has everything he wants and seems to be everything Kate wants too. Throughout the book Matt comes to terms with what's important to him and what he really wants in life.
Kate de Vries hasn't changed in the slightest. She's still as determined, ambitious, and pushy as ever. But the relationship between her and Matt grows and complicates as other characters come into play and again, she and Matt must reconcile their differences and work together to survive. Ultimately, it's their friendship and trust in one another's capabilities that gets them through.
Nadira is a gypsy running away from an arranged marriage and searching for a better life—one she believes will start when she is able to gain some wealth from salvaging the Hyperion.  Like Kate, Nadira is another force that pulls on Matt's will and attention, creating some interpersonal conflict. Nadira proves to have a lot in common with Matt and becomes a friend.
Hal Slater joins the crew on their adventure—or I should say, heads the crew. He provides the skybreaker airship that will get them to the Hyperion. Like Nadira, Slater adds to Matt's stress and the interpersonal conflicts of the story as he pursues Kate and puts on airs as being an experienced "man of the world." He's an antagonistic character who isn't bad but isn't good either. His redeeming quality is his love and sense of responsibility for his crew.
A Satisfying Ending
With all the twists and turns of this death-defying adventure story, nothing less can be expected from the ending—it too has a very satisfying plot twist.
Recommendation Note
There's some violence, extreme conditions at higher altitudes, and relationship drama some readers might not enjoy. That being said, the writing, adventure, and plot are exceptional.
*Audiobook recommended!
Books I Recommend in the Series
Books Like This: Treasure Island by Robert Louis Stevenson
Where to Find this Book:
Amazon
* or your local library!
*This post may contain affiliate link(s). See full disclosure on legal page.